Accommodation
AlFalah Travels have been able to offer different packages for its users according to their budget. Stay in Makkah and Madina hotels has been booked according to the customer's preference and demand. They can enjoy the accommodation luxury 5-star hotel experiences to budget 3-star hotel stay. Covering all the required details and services information, there is a facility to book any hotel, villa or vacation home prior to the visit.
One can search for the desired destination and book an accommodation at his visiting place. There are total 11 accommodations available in Saudi Arabia for the pilgrims who wish to have a comfortable journey throughout. Four accommodations are available in Madina including hotel, villas, and homes. This ensures the travelers to stay up at perfect locations according to their convenience and satisfaction.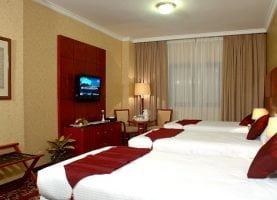 MAKKAH CLOCK ROYAL TOWER, A FAIRMONT HOTEL, Makkah.
Situated only 100 m from Masjid al-Haram, this 76 storey luxury hotel is one of the tallest building.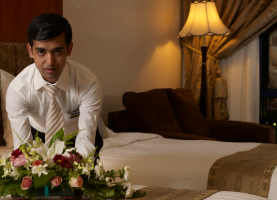 Abraj Al Bait – Near King Abdul Aziz Gate, 21955 Makkah, Saudi Arabia, Makkah.
Located in one of the tallest buildings in the world and overlooking the holy Grand Mosque.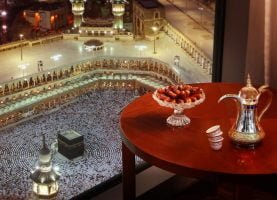 King Abdul Aziz Endowment ▪ Ajyad Street, Makkah ▪ Saudi Arabia, Makkah.
This sophisticated hotel is part of the iconic Abraj Al-Bait Towers.