ZIYARAAT'S PACKAGES 2022-2023
Explore our packages & guidance
We offer a wide variety of Ziyaraat's Packages for 2021-2022, Alfalah Hajj and Umrah Services have been helping people to perform these sacred obligations and Sunnah for many years. Each Ziyaraat's package is exclusive and tailored to meet your needs, with deals that get better and better as we constantly improve them. Ziyaraat's can be visited anytime throughout the year.
We are trusted Ziyaraat's package providers with great reviews and offer a great deal of experience as Ziyaraat's tour operators. We tailor each and every Ziyaraat's Package to offer a great choice of options & to suit all budgets all of which are detailed and explained fully and very easy to follow. We always use proper Ziyaraat's tour guides and experts to assist you in your sacred journey to make it a lifelong memory. Choose from the best Ziyaraat's Packages, and tailor your trip to meet your exact requirements.
Please have a look at our latest Ziyaraat's Packages for 2021-2022 and get a free quote.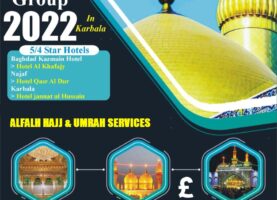 10 Days Ziyarat's Package 1st Shabaan Ashra at Iraq 2022
All inclusive Package from £ 1195
Package Start from 10 – 20 Mar 2022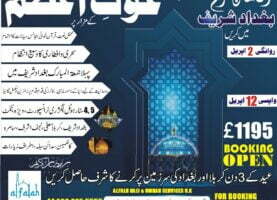 10 Days Package 1st Ramadhan Ashra at Ghauz-E-Azam Iraq 2022
All inclusive Package from £ 1195
Package Start from 02 – 12 Apr 2022
Package Start from 12 – 22 Apr 2022
10 Days Package 3rd Ramadhan Ashra at Ghauz-E-Azam Iraq 2022
All inclusive Package from £ 1295
Package from 23 Apr – 04 May 2022
10 Days Ziyarat's Package at Iraq 2022


All inclusive Package from £ 1300
Package Start from 2 -12 July 2022
1st of August to 12th of August Ashura in Karbala

All inclusive Package from £ 1330
Package from 1st August – 12 Aug 2022
14 Days Package 7th September to 21st Septemebr
All inclusive Package from £ 845

Hazrat Gause-e-Azam

Ziyarat 10 Days Package from 2nd November to 12 November


All inclusive Package from £ 1300
Send your queries for more details & bookings